GOiNTERIM Manager nominated for AIMP Interim Manager of the Year 2023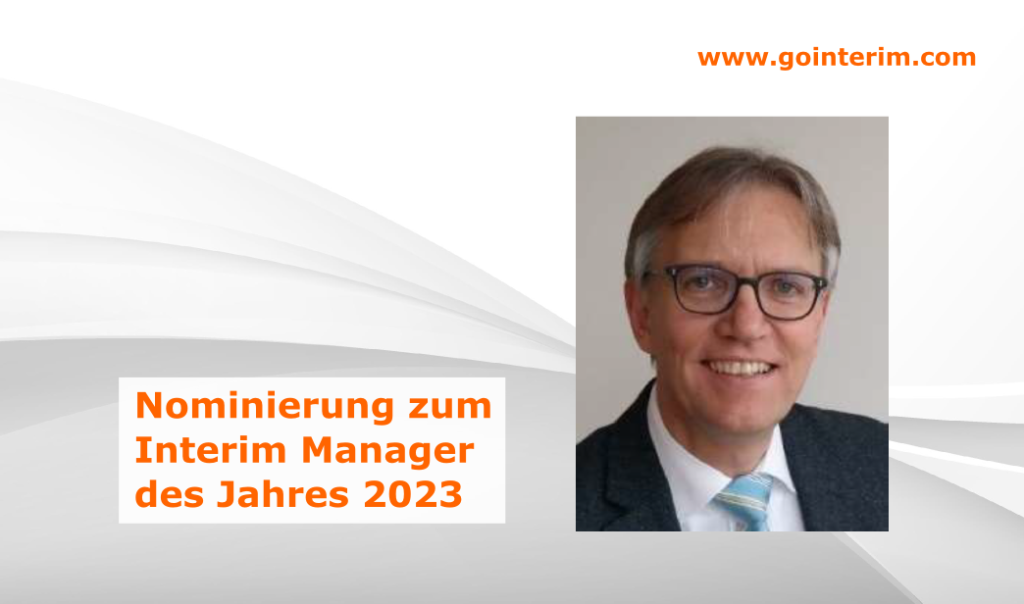 The industry award initiated by the AIMP (Arbeitskreis Interim Management Provider) "Interim Manager of the Year" is internationally regarded as a strong signal for modern leadership and management and as a special quality award.
This year our manager, Mr. Dipl.-Ing. Nielbock, was nominated by the AIMP as Interim Manager of the Year. We wish all the best an CONGRATULATION!
Mr. Nielbock has been active in interim management for several years and is primarily an experienced manager in the area of plant and organizational planning.
Experience at a glance:
With 30+ years of automotive experience in 3 globally positioned companies with matrix organization at Daimler Benz, Mannesmann Sachs Automotive and Johnson Controls* (* now Adient Seating and Yanfeng Interiors).
In line and central functions with budget responsibility for plants, specialist and business units as well as projects with regional and global responsibility
In Germany, Nigeria, Mexico, South Korea and China, I support companies in their day-to-day business, program launches, setting up new sites or leading projects to reduce costs, benchmarking and identifying best practices as well as introducing Industry 4.0 automation and flexibility with robotics and digitalization.
The operational management of a plant as interim manager or also as division manager for quality, continuous improvement, benchmarking and best practices preferably in Germany or tasks with travel activities within Europe as well as temporarily worldwide are possible fields of activity.
In a joint project with GOiNTERIM as Interim Project Manager he implemented and managed the plant setup/relocation of a strategically important project for an international industrial company in CEE. Very good feedback from the customer and always highly professional cooperation further support the nomination.
Congratulations!
Also take the opportunity to share this post with your network.